Dems Brasserie & Pilgrims English Restaurant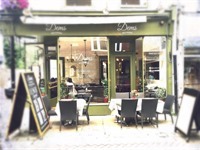 Welcome to Dems Brasserie
One of our two fantastic hotel restaurants, Dems Brasserie offers delightful French cuisine, freshly cooked from locally-sourced ingredients, all at a surprisingly affordable price.
Our three superb house
pianists
play live in the restaurant from 5.30 pm every Wednesday and Thursday, and from 7.30 pm on Friday and Saturday. They each have their own unique repertoire and are hugely popular. Alex Rose recently released his first CD (visit
http://alexrosemusic.co.uk
), Luke Smith has a vast 700 tune piano repertoire and Lori Warsop has won numerous musical awards and as well as being a professional musician also teaches brass and piano when not performing in Dems.
Our beautifully stylish VIP private dining facility
'Paris'
is also available to book (see Functions & Meetings) and caters from 2 to 12 in comfort and style. It's ideal for parties and other celebrations.
We advise booking your table as the restaurant is very popular and can get extremely busy - the booking facility is below:
Please note:
Breakfast
for all guests are served here from 7.30 am until 12 pm every day.
Lunch is from 12 pm until 2 pm (Tuesday - Friday)
Dinner is from 5 pm until 9.30 pm (Tuesday - Thursday, 5 pm - 10.30 pm Friday).
Weekends: We are open all day from 7.30 am on Saturday and Sunday until 10.30 pm Saturday and 9.30 pm on Sunday.
After breakfast on Mondays ONLY, Dems remains closed the rest of the day.
Table Reservations at Dems
Virtual Tour of Dems Brasserie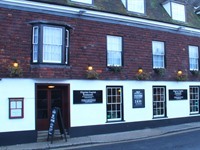 Welcome to Pilgrims English Restaurant
Pilgrims English Restaurant is the second of our two superb restaurants and serves food from 12 pm until 8.45 pm every day.
There are two main dining areas, catering for around seventy diners.
The Theatre Room (so named thanks to the amazing original artwork on display by local artist Kathryn Rennie, all inspired by theatre and film classics) and Kit's Bar, overlooking the Marlowe Theatre.
Table Reservations at Pilgrims English Restaurant